SHOP
COMING SOON!

Exhibition
Aggregat
2019–01

Analog, digital, weiblich, männlich, fest, flüssig: Im Kunsthaus Rhenania zeigen Jana Manfroid und Hannah Kuhlmann auch in diesem Jahr junge Designtalente. Aggregatist nach der Ausstellung Homo Ludens (PASSAGEN Prize 2018) das zweite PASSAGEN-Projekt der beiden Kuratorinnen. DesignerInnen und KünstlerInnen erproben das Ausdehnen von Grenzen und das Strapazieren klarer Strukturen mit Exponaten an der Schnittstelle zwischen Mobiliar und Installation. Auch in diesem Jahr bieten die beiden Kuratorinnen Jana Manfroid und Hannah Kuhlmann jungen Talenten die Möglichkeit, sich in den Ausstellungsräumen des Kunsthaus Rhenania einem internationalen Publikum zu präsentieren. Aggregat ist nach der, mit dem Passagen Preis dotierten Ausstellung Homo Ludens, das zweite PASSAGEN Projekt der beiden Ausstellungsmacherinnen.
Analogue, digital, female, male, solid, fluid: once again, Jana Manfroid and Hannah Kuhlmann will be presenting young design talents at Kunsthaus Rhenania. After its predecessor Homo Ludens (PASSAGEN Prize 2017), Aggregat is the curators' second PASSAGEN project. Designers and artists explore the pushing of boundaries and test the resilience of clear structures with exhibits at the intersection of furniture andinstallation.


with:
Rosanne Ahyi
Nils Ahrenberg & Sebastian Guzman Olmos
Anne Büscher
Clara Escalera
Gelbrosa
Willem van Hooff
Studio Kuhlmann
Clara Ormieres
Moreno Schweikle & Janne Schimmel

Organsation
Kuration: Jana Manfroid & Hannah Kuhlmann
Fotografie: Marina Hoppmann
Grafik: Martin Major


Kunsthaus Rhenania 14.01–20.01.2019
Vernissage 14.01. 19h

Music by DIANA Kollektive



Exhibition
Homo Ludens
2018–01

Homo ludens – Eine Ausstellung zum spielenden Menschen
In die unvollkommene Welt und in das verworrene Leben bringt das Spiel eine zeitweilige begrenzte Vollkommenheit. Im Spiel entdeckt der Mensch seine individuellen Eigenschaften und entwickelt seine Persönlichkeit.
In der Ausstellung Homo ludens präsentieren junge Talente ihre persönliche Vision von einem spielerischen Umgang mit Produkten in einer humoristischen und multi-sensorischen Ausstellungsarchitektur.


Playing brings temporary wholeness into our imperfect world and our complicated lives. Playing, we discover our individual qualities and develope our personality. In the Homo ludens exhibition, young talents discover their personal vision of a playful use of products within the framework of a humorous and multi-sensory exhibition architecture.


with:
Kami Blusch
Jessie Derogy
Fransje Gimbrere
Jennifer Hardel
Tim Hattrick & Matthew James Moore
Aleksandra Jakuc & Jonathan Kok Wai Ho
Elissa Lacoste
Sara Kadesch
Manon Ritaly
Skonne
Studio Kuhlmann
Studio Mousse
Clara Sophia Uerlichs & Marit van Heumen

Kunsthaus Rhenania 15.01–21.01.2018

Montag, Vernissage: 19:00–01:00 supported by dublab.de
Donnerstag, Konzert: ab 20:30 mit Chanson Trottoir
Samstag, Finnisage: 19:00–01:00
Exhibition
Spaces of Desire
2016–06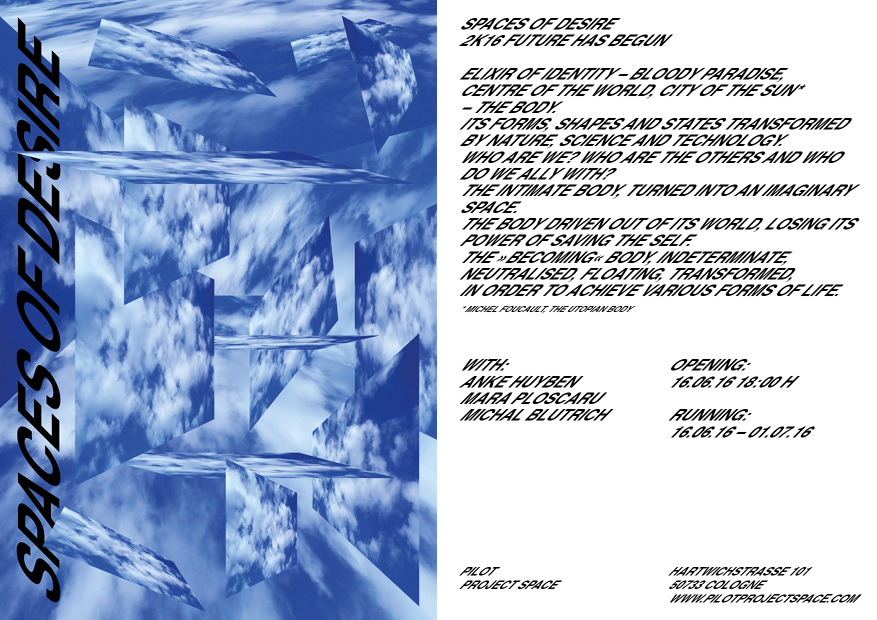 Spaces of Desire2K16 Future has Begun

Elixir of identity – bloody paradise, centre of the world, city of the sun* – the body.
Its forms, shapes and states transformed by nature, science and technology.
Who are we? Who are the others and who do we ally with?
The intimate body, turned into an imaginary space.
The body driven out of its world, losing its power of saving the self.
The »becoming« body, indeterminate, neutralised, floating, transformed,
in order to achieve various forms of life.
* Michel Foucault, The Utopian Body

with:Anke Huyben
, born 1986, studied jewellry design at Academie Beeldende Kunsten in Maastricht, lives and works in Rotterdam
www.ankehuyben.com
Michal Blutrich
, born 1986, studied product design at Bezalel Academy of Arts and Design in Jerusalem, lives and works in Berlin
www.michalblutrich.com
Mara Ploscaru
, born 1987, studied visual communication at UNARTE Art University in Bucharest and Photography at Ostrkreutzschule in Berlin, lives and works in Berlin
www.maraploscaru.com
OPENING
16.06.2016 – 18:00h
RUNNING
16.06.2016 – 01.07.2016
PERFORMANCE

30.06.2016 – 18:00h
by Julia Haenni – 'Rudeltiere'
ADRESS
PILOT PROJECTSPACE
Hartwichstraße 101
50733 Köln